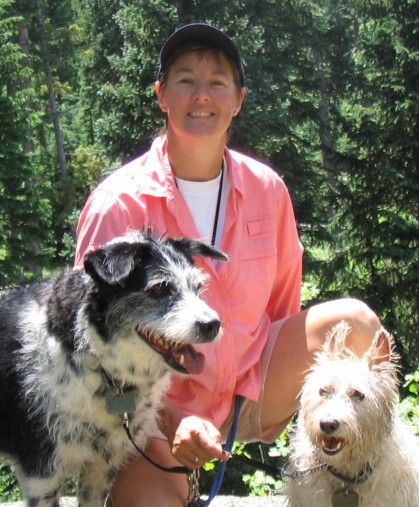 Allow me to introduce myself. My name is Mamie (pronounced like Amy with an 'M'). Thank you for taking the time to learn about me. Whenever I am making a major decision or pursuing something new, I like to educate myself about what I am getting into. So, I am pleased that you have come to my website to research who I am and what Dog Rehab Works is all about. If you are a "Cut to the chase" or "Just the facts, Mam…" kind of person, you are still in the right place. Just look over the "Facts" box on this page. If you want a more personal peek into who I am and what my philosophy is, please read on.
My journey to becoming a canine rehab therapist started with a love of dogs and animals as a kid and the thought that I wanted to be a veterinarian. Life had different plans and I was introduced to Physical Therapy when I tore my ACL, had rehabilitation and discovered what a cool profession it is. In 1988, I received my B.S. in Physical Therapy from University of North Dakota. During my years treating humans, I specialized in outpatient orthopedics and sports medicine using a manual therapy and functional exercise approach. Helping people regain function and mobility with Physical Therapy was very rewarding.  In 2011, I became Certified as a Canine Rehabilitation Therapist through the Canine Rehabilitation Institute and began blending my passion for dogs with my devotion to the positive affects Physical Therapy can provide. Now, my reward comes in helping the pets of people who are devoted to their pet's happiness and wellness. When your pet is happy, living a full, quality life, you both are enriched, which is why many of us have and love dogs – they enrich our lives. But, when your pet is injured, sick, in pain or struggling to move, their challenges become your own and the mutual enrichment between dog and owner can be lost. Prior to creating Dog Rehab Works, LLC in 2013, I worked with leaders in the field of canine rehab as a therapist in Small Animal Rehab at CSU Veterinary Teaching Hospital in association with Sasha Foster, MSPT, CCRT and also gained valuable experience in hydrotherapy for dogs working at Canine Rehabilitation and Conditioning Group. I am a former faculty member with the Canine Rehabilitation Institute as an Instructor for 10 years, teaching 100's of veterinary and rehabilitation professionals in the United State, Australia and the United Kingdom.

Having witnessed, first-hand, the wonderful benefits of restoring lost function and regaining quality of life through rehabilitation, I came up with my slogan – "Restoring Your Dog's Function…Restoring Your Dog's Fun." I love to laugh and appreciate a good sense of humor. Dogs are a great source of laughter, which is partly why I enjoy them so much. When I am treating dogs, I try to have fun and find the dogs respond better to that. As part of keeping the fun in the treatment, I believe in never forcing a dog to do something it doesn't want to do; even if that means no treatment or assessment is performed. I use a gentle, patient approach to build a dog's trust. Some dogs take longer to develop that trust, but a non-forceful, encouraging approach will typically win them over.
My years of experience in physical rehabilitation have shown me that no case is exactly the same and patients shouldn't be treated with a canned approach. Each case needs to be dealt with individually and my treatment plan will be based on what the dog needs and requires at that given time and not by a financial bottom line or other motives. Your dog's safety and a successful outcome are my top priority.
In my spare time, I maintain life balance through immersing myself in nature by fly-fishing and also enjoy watercolor painting and photography. My mind is a treasure trove of trivia – Jeopardy rocks! I love Lucy, Katherine Hepburn and Tom Hanks. I am a thinker, an introvert and a former jock. I prefer peace and calm over crazy and rushed. I'd rather ski down a mountain than climb it. I like Coke better than Pepsi and the Beatles more than Elvis (they say you like one or the other). I think dogs are one of God's greatest gifts to us. I hope to have the privilege of meeting your pet and helping them achieve their very best.